Recommended links: communities, video, studies, recordings and addiction recovery resources
Peer-to-peer (mutual aid) groups, in-person, are online meetings and community. For a list (being updated daily) of zoom meetings >CLICK HERE for Google Sheets link 
Included are hyperlinks to meetings including secular 12-Step, Buddhist-based recovery, Life Ring, SMART and more.
Secular Alcoholics Anonymous and AA as a whole… AASECULAR.org
A Newcomer Asks describes two million+ AA members, while united, holding three general worldviews. Collectively we rely on more than our own will/resources to get and stay sober. What is it about AA that works, where unaided personal agency failed?
Here's the top three answers in AA ...
Many people [in AA] call it "God,"
others think it is the A.A. group,
still others don't believe in [a higher power] at all.
"There is room in A.A. for people of all shades of belief and non-belief."
How effective is AA? Well, "Compared to what?" Studies have been done and the results are out. Randomized controlled trials are the highest standard of scientific inquiry. This video looks at results of what scholars consider the most credible measures of comparing AA against current highly regarded interventions for alcohol and other substance use disorder problems. It's AA or Twelve Step Facilitation vs. Cognitive Behavioral Therapy and Motivational Enhancement Therapy. This video is made with the cooperation of Stanford and Harvard Medical Schools and the Cochrane Database of Systemic Review.
Jesse Beach, a regular feature writer at TheFix.com (RIP) @ The Pacific Standard, "Letting Go of God: How 12-Step Programs Are Losing Their Religion"
Recent Rebellion Dogs Publishing collaborations ...
Here is a 1/2 day work show with Joe C of Rebellion Dogs and Herb K care of the Mary & Joseph Retreat Center on Step Two and Three of the 12-step program with or without God; a secular AND/OR a spiritual approach both work fine. Listen or Watch here:
It is just so much more fun on other shows. Dr. Allen Berger visited Rebellion Dogs Radio and how could Joe C say, "No" to an ask to join Thom Rutledge, Patrick and Allen on the #22 Emotional Sobriety Pod.
Recovery Speakers offers Zoom gatherings of AA history. Joe C was asked to speak on the history of atheists and agnostics in AA (2022).
Listen to the audio HERE                      Download/View the slides HERE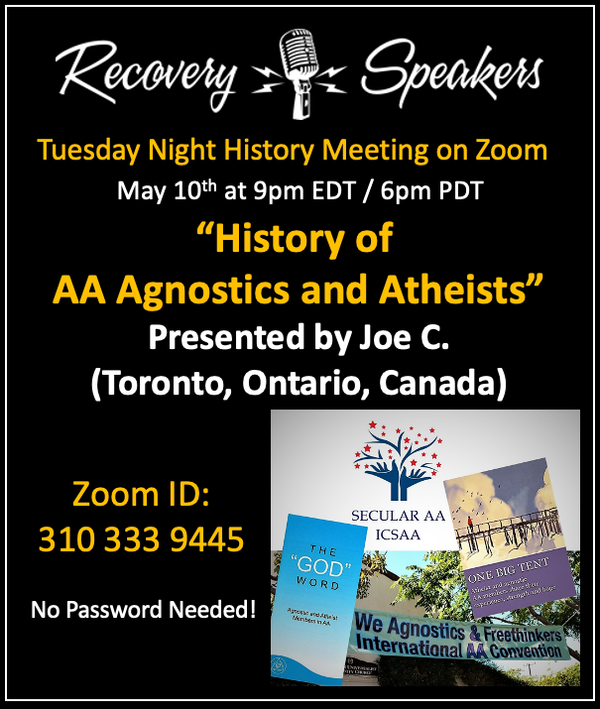 The Common Sense of Drinking by Richard R. Peabody, the bestseller that AA founders read before there was a big book. The Common Sense of Drinking informed ideas and language that many today, believe was first published in Alcoholics Anonymous in 1939. Read this and let us know what you think CLICK HERE
In audio, "HEAR ALL ABOUT IT!", Here's some of the best collections of a non-theistic approach to AA recovery, stream or download any/all for free. Click to connect.
International Conference of Secular AA Podcast (ICSAA):

A world-tour of secular AA coferneces and speaker meetings from every continent, from different agnostic/atheist meetings on the first Sunday of every month

Rebellion Dogs (our every step at first) official podcast page. Jump to Spotify, Apple Music, Amazon Podcast, Google, Sticher, wherever you podcast, Rebellion Dogs Radio is there.
More Emotional Sobriety w/ Dr. Allen Berger, Thom Rutledge, producer Patrick + more
Freethinker's Living Sober, Cottonwood AZ podcast YouTube: Emotional Sobriety series, Varieties of Secular (AA) experience
Beyond Belief Sobriety with John S, Angela B and more, a YouTube page about recovery from addiction
Secular Irish podcast of secular recovery with interviews and speakers from around the world: Tus Nua, audio secular recovery online meeting resources and more
Freethinkers Cleveland Higher Palooza speaker recordings: we who negotiate AA from various cultural and spiritual approaches that differ from original AA monotheism
Join Dr. Adina Silvestri for Atheists in Recovery Podcast about science, belief systems, cross-addiction and life-issues for people suffering now from substance-use disorder or in long-term recovery
AA Grapevine joins the 21st century in October 2021 with a new 1/2 hour podcast with two podcasting dudes interviewing Grapevine authors and AA's involved in service

AA-Beyond Belief: community, blogs, podcast

Atheist & Agnostic AA Meetings zoom online meetings
CLICK HERE FOR SECULAR ZOOM MEETINGS AROUND THE WORLD
FACEBOOK (click any of them)

Atheists, Agnostics and Secular Humanists in 12 Step Fellowships
12-Step Philosophy w/ Steve k
AA for Atheists and Agnostics

The 12-Step Buddhist 


Rebellion Dogs on Facebook
Collection of AA agnostic & atheist talks
Secular Story Time
TheFix.com articles by Jesse Beach
Toronto Secular AA Zoom Meetings and resources

Here you will find things to read, listen to or interact with online as part of your recovery journey.  Also included is resources for starting a face-to-face Agnostic/Freethinkers 12 Step Meeting.

New stats on AA meetings without prayer. Humanists, Freethinkers or AA for Atheists and Agnostics face-to-face groups are on the rise, along with online forums.New York Agnostics posts meetings (just the ones that send them information) and from 2010 to 2014 groups have increased from less than 90 to about 190. See more HERE
Finding meetings...
Chicago Quad A (AA for agnostics and atheists)
http://www.indyweagnostics.com Indianapolis We Agnostics Group
Toronto Agnostic Groups
San Francisco Agnostic Groups
Kansas City We Agnostics
Vancouver Canada Agnostic and Atheist AA groups.

Rebellious Reading Agnostic/Freethinker Blogs/Podcasts
IN RECOVERY MAGAZINE
THE FIX
RENEW 
KLĒN + SŌBR Podcast of Since Right Now
SUBSTANCE.com
Doubting Tom
AA Atheist

More is better...
Vince Hawkings, is author of An Atheist's Unofficial Guide to AA. AnAtheists12Steps.com
 
USA Dept of Health - healthfineder.gov
 
STARTING YOUR OWN AGNOSTIC GROUP
What Can Be Read at an AA meeting blog
Preamble
Agnostic How It Works
What type of meetings are agnostic groups? Some are speaker meetings, some are discussion meetings, some read Living Sober or other AA literature or other literature. Some read an agnostic translation of the Twelve Steps (and Traditions). No ritual or reading is mandatory and none are forbidden.

The group decides how the meeting will be conducted and if it is OPEN (Anyone welcome) or CLOSED (Addicts, Codependents or Alcoholics only)

Meetings for Agnostcs, Atheists and/or Freethinkers are popular in AA. If you are starting a new group register with GSO (in USA or Canada or what ever General Service Office serves your geographic location)

Also there is a word-directory of agnostic/freethinkers groups, so register your group with aanycagnostic website. 

Good luck and let us know how your new group is doing.  

DID YOU KNOW?

Here is an interesting Box 4-5-9 which includes addresses from John K in 2003 and reference to Bob P's 1986 address to GSO. If you want to know more about the relationship between GSO and our groups good. You may be surprised to hear them cautioning us against asking them to solve our local squabbles to making decrees that enforce or govern groups and members. Read the pdf of Box 4-5-9 April/May 2004 HERE.

NEW: If you were at AA's 80th in Atlanta and you stayed until the last, John K was the last speaker on the last listed panel on the program. You can hear "We realize we know only a little." which is a great way to end a celebration of how far we've come. If you listen to the end, John shares his time with a message from Bill W spoken 50 years earlier in the Royal York Hotel in Toronto when AA was only 30 years old. In a way, "there is nothing new under the sun." HEAR THE TALK HERE 

Now, John would be embarrassed to be singled out like this, the whole panel is worth listening to. An MP3 can be bought from aa.org under "World Convention" and I recommend buying the whole panel (I did).

Also, hear the We Agnostics Panel in Atlanta 2015 HERE.

NEW: AA's 2014 Membership survey is out showing young people down (2% in 2014 to 1% in 2014, currently 20,000 AAs compared to 40,000 three years ago are under the age of 21), a whiter AA, an older AA and a growing female population. At 38% that might be the highest representation of female AA members ever. See the pamphlet HERE
AA Population. Box 4-5-9 Summer edition posts AA's own annual survey of members and groups. Here is the history of members and groups up to 2012
Outcome Rates in Alcoholics Anonymous. Looking at the numbers: "This paper is written for AA members and is intended for internal and public circulation as an item of AA historical and archival research. It is offered to help inform the AA membership and academic researchers of a widely circulated misinterpretation and mis-characterization of AA recovery outcomes. The fellowship of Alcoholics Anonymous, as a matter of long established principle, policy and practice, does not engage in public debate and seeks to avoid public controversy. The authors of this paper must emphasize that we do not speak for AA. We have a personal interest in the history of AA and consider it imperative to correct historical inaccuracies and propagation of myth." Arthur S., Tom E., Glen S.

Recent Rebellious writing in the mainstream:
Amy Winehouse, The Move in Renew Magazine (October 2015)
http://www.reneweveryday.com/movie-explores-the-rise-and-fall-of-amy-winehouse/
Remembering Ernie Kurtz (November 2015)
http://www.inrecoverymagazine.net/go/archives/5592
Many Paths to Spirituality and the let-down for atheists and agnostics in AA. (April 2015)
http://www.inrecoverymagazine.net/go/archives/4305
12 Step Culture loses it's religion (October 2014)
http://www.substance.com/letting-go-of-god-how-12-step-programs-are-losing-their-religion/14155/
Paul Williams interview in Renew Magazine (November 2012)
http://www.reneweveryday.com/renew-conversations-paul-williams/
God and Man: Religious Disagreement narrows AA's Spiritual Gateway (April/May 2012 pg 25
http://digital.reneweveryday.com/i/55463-march-april-2012?hubItemID=13901
Marya Hornbacher in THE FIX, September 2011
https://www.thefix.com/content/marya-hornbacher-takes-god9165
Toronto Intergroup and Agnostic Groups The Fix June 2011
https://www.thefix.com/content/do-atheists-have-any-place-aa
 


How many AA books get sold each year? Here's a history of AA sales as well as Royalty Payments
In several references (Blogs, Beyond Belief: Agnostic Musings for 12 Step Life) I have made reference to AA population. While AA population is impossible to get accurate because of the great lengths the fellowship goes to protect anonymity, I use AAs own stats which, other a one-time change in methodology , shows year over year change by the same measurement standard. Box 4-5-9, the Summer edition reports each year's numbers.

In AA who is an Insider, Graduate, Replapser or Tourist? Here is an independent study on four types of AA attendees and their recovery careers HOFFMANN 2003

While the report does not address AA population as a key theme, I found this to be the most reliable information while doing my own research.
Alcoholics Anonymous Recovery Outcome Rates: Contemporary Myth and Misinterpretation

In December 2009 Joe C had an article published in AA's Grapevine called Overhaul? Is our 20th century literature up for the task of aiding the 21st century newcomer? Hear it here. overhaul? AA Grapevine   More interestingly, hear the feed back here.  Grapevine Reader Replies

In Toronto, Renascent House, a leading 12-Step based treatment center posts a TGIF Newsletter for Alumni and the public. April 25th 2013, they featured the agnostic perspective with a guest blog by Beyond Belief author Joe C, a copy of Bill W's 1961 "Dilemma of No Faith and a link to the CBC Tapestry show about AA Spirituality - with and without God. Link to it here:   Have a printable PDF HERE

SIX proposals by AA's General Service Literature Committee to create a pamphlet for Atheists and Agnostics have been mothballed. READ More HERE. THIS document WAS posted on Area 17's website but has now been removed. Rebellion Dogs asked GSO to confirm or deny the legitimacy of each reported count which should be in the minutes and archives. "We are understaffed. Sorry, can't do that." was the response from our GSO staff. A second attempt with AA Archives is now underway.

The White Paper on Non-believers - an anonymously authored thesis of one long-term member who thinks AA is making a big mistake by welcoming agnostic AA groups as part of the fold and that believers should ban together to expel members/groups that unabashedly don't believe in God. This is hardly a widely held opinion in AA but the advocates of this proposal are not without influence.

Toronto Intergroup Reps were sent this document and encouraged to vote agnostic AA groups out in order to save Alcoholics Anonymous from contamination or delusion. What was a peaceful and cooperative relationship between Intergroup and all the groups it was mandated to serve, bigotry won the day in May 2011 in a divisive vote that still finds Toronto AAs divided on the new Intergroup whereby Uniformity, not Unity is their guiding principle. Another mandates was to have member's petition GSO to refrain from including the agnostic/atheist voices out of the draft pamphlet on Spirituality. According to the then Class A Trustee Chairman of the Board for Alcoholics Anonymous, Ward Ewing, GSO did report on an impressive campaign to sensor the AA message through this draft pamphlet. The document can currently be found in the Links page of a Florida AA site called 164fl.com



Rebel Radio -
Joe C Joanne and Roger C of Beyond Belief Agnostics & Freethinkers Group talk on CBC Radio's Tapestry about AA with or without God.
Rebellion Dogs Radio Podcast on Pod-O-matic
Talks including some from www.xa-speakers.org

AUDIO RECORDINGS 
Recorded at the Ontario Regional Conference of AA There is a Solution in Toronto, Canada April 13, 2013 by Joe C (author of Beyond Belief: Agnostic Musings for 12 Step Life), atheist + Joe R., Catholic Priest share on a panel called, "Growing Along Spiritual Lines." You haven't heard anything quite like this. Steam it Here. Download it Here. all rights reserved.

Ward Ewing Class A (non-alcoholics) Trustee and Chairman of the Board of Alcoholics Anonymous talks at Unity Day 2011 in Canada, a joint
effort of Area 83 and Area 86. Mr. Ewing talks about Spirituality--what it is and isn't and why a clear line should be drawn in AA between
Spirituality and Religion
HEAR WARD EWING

Barry L, author of Living Sober and "Do You Think You're Different?" talks at The 1985 world conference in Montreal Canada
HEAR it HERE  or download it HERE

Jim B AA's first New York atheist, anecdotally referred to as Ed the Atheists in Bill W's essays on the Twelve Traditions is responsible
for the term "...as we understand Him" in the Twelve Steps. In 1957 Jim tells the story of how the Big Book came to be in a talk he
gave in San Diego HEAR it HERE or download it HERE

History of Proposals for Atheist/Agnostic Pamphlet Before The "God" Word: Agnostics and Atheists in AA, there was a history of requests from the mid-1970s to the second decade of the 21st century. Here are some highlights of the history.

1995 AA World Convention in San Diego We Agnostics Panel
Chair: Jacque F, AA World Services Montreal, Merl E., CA Mel D., NY & Linda F., AZ
Hear It HERE. Tape, CD or Mp3 available from https://www.dicobe.com/ Audio # 80
1990 AA World Convention in Seattle Washington We Agnostics Panel
Chair: Bruce and Sarah from Seattle Wa, Speakers: Charlie P, LA, Phyllis M, NYC, Mary N, Port Salerno Fa.
Hear It HERE. Tape, CD or Mp3 available from https://www.dicobe.com/ Audio

Broad Communities
In The Rooms (chatting, blogging, groups)
In The Rooms Addiction Magazine 
 
0:00/28:22

0:00/46:30

0:00/3:58

0:00/3:08

0:00/3:33

0:00/25:15

0:00/1:19:02

0:00/39:16